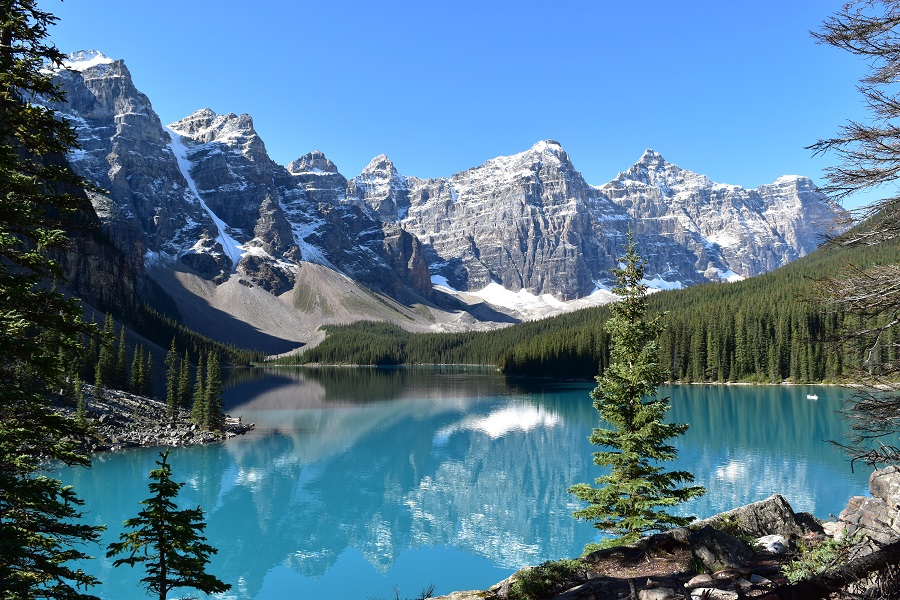 Moraine Lake Shuttle
Projected 2022 Moraine Lake Shuttle Schedule
The 2021 Season is Over.
Park's Canada is running the Moraine Lake shuttle for the 2022 season. The shuttle will start every 20 minutes between 8:10 AM and 5:30 PM from the Park and Ride (formerly known as the Overflow parking on the Trans Canada Highway) and proceed to Moraine lake. Departures from Moraine Lake will then go to the Park and Ride every 20 minutes with the last one departing at 5:30 PM.
There is also an early bird shuttle to Moraine Lake that runs from 6 AM to 8 AM for those wishing to go up early and do day hikes to Mt. Temple and other destinations. This shuttle will leave from the Park and Ride off of Highway 1 and proceed directly to Moraine Lake. You can not return on any of the early bird shuttles, you have return on one of the regular scheduled instead.
Due to high demand, reservations are required for the Moraine Lake shuttle. Use the button below to take you to the Park's Canada reservation page. You can make a reservation up to 4 hours before the scheduled departure time.
If there are no seats left on the Park's Canada Shuttle...
Seating is limited on the Moraine Lake shuttle and seats might not be available for when you want to go. There is another option available through Three Sister's Taxi, please visit their Moraine Lake Tour page for more details.
---
Early Bird Moraine Lake Schedule
Runs June 22 to September 20, 2022 every half our between 6:00 AM and 8:00 AM. Reservations are required. No return trips on early bird shuttles, you must return on the regularly scheduled ones.
| Park and Ride | Moraine Lake |
| --- | --- |
| Depart | Arrive |
| 6:00 | 6:25 |
| 6:30 | 6:55 |
| 7:00 | 7:25 |
| 7:30 | 7:55 |
Early Bird Fares
Adults
Senior (over 65)
Youth (under 18)
Child (under 5)
To Be Announced
To Be Announced
To Be Announced
To Be Announced
---
Moraine Lake Schedule
Runs May 15 - October 12, 2022 starting from 8:10 Am through till 5:30 PM. Reservations are required.
Park and Ride
Moraine Lake
Park and Ride
Depart
Arrive
Depart (Approx.)
Arrive (Approx.)
8:10 AM
8:35 AM
8:45 AM
9:10 AM
8:30 AM
8:55 AM
9:05 AM
9:30 AM
8:50 AM
9:25 AM
9:35 AM
10:00 AM
9:10 AM
9:35 AM
9:45 AM
10:10 AM
9:30 AM
9:55 AM
10:05 AM
10:30 AM
9:50 AM
10:25 AM
10:35 AM
11:00 AM
10:10 AM
10:35 AM
10:45 AM
11:10 AM
10:30 AM
10:55 AM
11:05 AM
11:30 AM
10:50 AM
11:25 AM
11:35 AM
12:00 AM
11:10 AM
11:35 AM
11:45 AM
12:10 AM
11:30 AM
11:55 AM
12:05 AM
12:30 AM
11:50 AM
12:25 AM
12:35 AM
1:00 PM
12:10 PM
12:35 PM
12:45 PM
1:10 PM
12:30 PM
12:55 PM
1:05 PM
1:30 PM
12:50 PM
1:25 PM
1:35 PM
2:00 PM
1:10 PM
1:35 PM
1:45 PM
2:10 PM
1:30 PM
1:55 PM
2:05 PM
2:30 PM
1:50 PM
2:25 PM
2:35 PM
3:00 PM
2:10 PM
2:35 PM
2:45 PM
3:10 PM
2:30 PM
2:55 PM
3:05 PM
3:30 PM
2:50 PM
3:25 PM
3:35 PM
4:00 PM
3:10 PM
3:35 PM
3:45 PM
4:10 PM
3:30 PM
3:55 PM
4:05 PM
4:30 PM
3:50 PM
4:25 PM
4:35 PM
5:00 PM
4:10 PM
4:35 PM
4:45 PM
5:10 PM
4:30 PM
4:55 PM
5:05 PM
5:30 PM
4:50 PM
5:25 PM
5:35 PM
6:00 PM
5:10 PM
5:35 PM
5:45 PM
6:10 PM
5:30 PM
5:55 PM
6:05 PM
6:30 PM
Fares
Adults
Senior (over 65)
Youth (under 18)
Child (under 5)
$8
$4
$2
Free